Why Should You Use Predictive Maintenance?
Maximizing uptime and minimizing downtime  is not a distant dream no more, and its about time you start enjoying it.
Anymaint utilizes Machine Learning, big data analyses and our own unique model of Collaborative Maintenance to create personally-tailored maintenance plans for your equipment that optimizes your operations.
Choosing Us
You Will Get: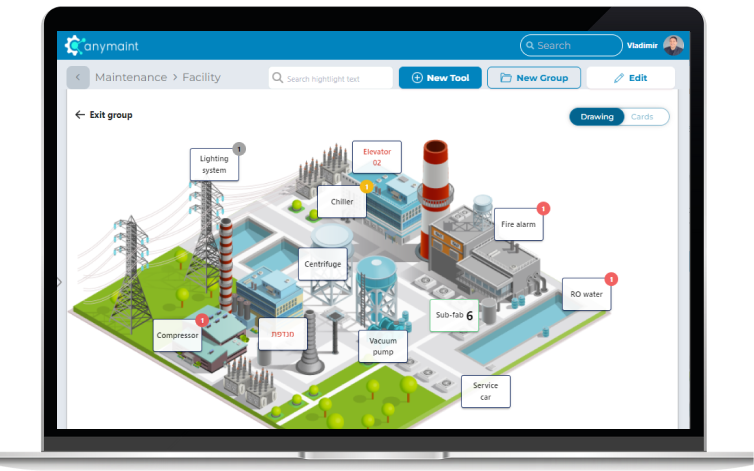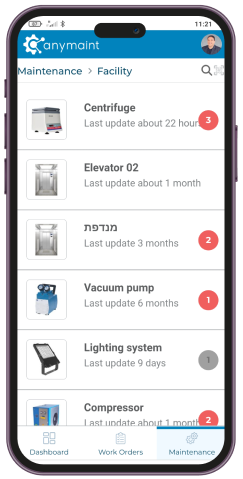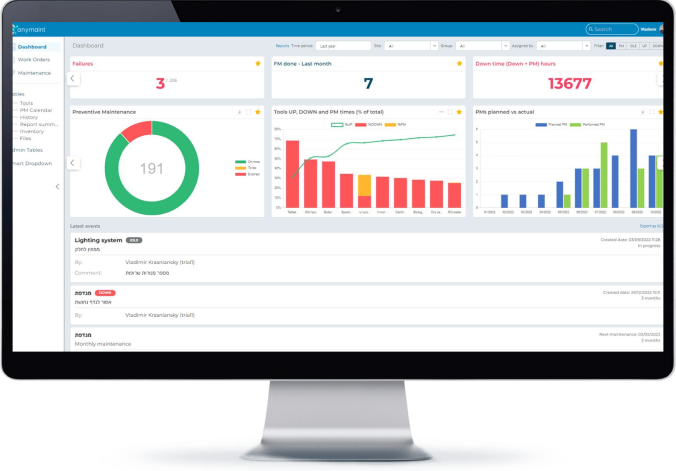 Digital Transformation - Simple Visual Platform & Predictive Maintenance Alerts
Connected Workforce from any device, all equipment, every employee
Industry 4.0 solution - Smart Analyses & Real Time Actionable Data
With AnyMaint, we've improved profitability by minimizing operational costs and maximizing machine uptime without any additional staffing or capital investment. The software's preventive maintenance features have also helped us avoid the risk of unplanned downtime.

Netanel Elim

Operation Manager

AnyMaint seamlessly connects our team, delivering real-time insights in the field. It simplifies planning, monitoring, and managing all activities in one platform. Plus, the onboarding process is both quick and easy.

David Bergel

Maintenance Manager

With AnyMaint, we can swiftly respond to issues through real-time online alerts. The user-friendly interface and proactive notifications enable us to prioritize core tasks and save considerable time and effort.
In today's fast-paced business environment, machine failure can have a significant impact on operations and revenue. That's why we've developed AnyMaint, a powerful platform that's reducing unplanned downtime by up to 70%. We collect data from all sources, including IoT devices, failure records, and maintenance logs to create a comprehensive view that optimizes maintenance as a whole.

Introducing AnyMaint - a game-changing solution for the maintenance management industry. With our unique model of collaborative maintenance that completely integrates human input and machine DATA, we can monitor, analyze, and create actionable suggestions that will transform your routine.

With a focus on simplicity and ease of use, AnyMaint allows companies to improve their maintenance processes with minimal effort and no additional staffing. Not only that, our collaborative model and anonymous analyses protocols allow us to detect equipment behaviours and alert you in advance. With one fast and easy implementation - you too can improve your maintenance processes.
Up to 70% reduction in downtime

Connected Industry 4.0 workforce / Real time.

Improved safety and efficiency

One system cross platform

Collaborative maintenance features

Driving data based decision making

Blogs
09.05.2023

The Dark Side of Maintenance Management Software: Why High-Tech Solutions May Not Be the Answer

The potential downsides of using high-tech solutions such as software, IoT devices, and analytics in maintenance management. While these tools promise to streamline maintenance processes and increase efficiency, they can be time-consuming and complicated to set up, leading to disruptions in a busy workday. Ultimately, it's important to approach technology with a critical eye and balance it with the expertise of skilled maintenance workers and managers.

Read more
All Articles